We Help Parents Build Stronger Bonds With Their Children, One Personalized packet At A Time
Thank you for visiting our website. We applaud you for this action, because it proves that you're a loving parent who cares deeply about your child's present and future. Now here are more details about us ...
Screen-free fun to spark kids' intellectual curiosity & help create the love of learning and reading.
Why Choose Us
Who Created Captain Mail?

Captain Mail was created by a husband and wife team as a fun way to get our young children excited about learning new topics and creating a relationship with reading. We quickly realized the benefits go much further than that.

Like many ideas that start from a necessity, Captain Mail started because we were at home with the kids, they were not paying attention to their online classes and they were spending more time than we like to admit on their screens. The one thing our kids were getting really excited about was getting something in the mail.

So, we decided to create fun and educational packet addressed to our kids. Over time, we realized that our kids were looking forward to these personalized packet with fun paper toy surprises. This way they had something to get excited about when they went to the mailbox. Plus, the time we shared with the packet felt like special moments together. As a result, it only made sense to start sending them out on a weekly basis.

Here's Why Captain Mail Was Created

We figured that other parents and children might enjoy the quality time that these packet create too. There are two keys to our success: 1) Reading the personalized packet with our children, and 2) Helping them create the 3D papercraft toys if needed. Both are critical actions if you want to enjoy bonding moments with your children. Remember, these are moments that you and your children will cherish over the years to come. Add in the fact that it helps them develop insatiable curiosity and a love of learning for the cherry on top!

Our Mission: Share the Most Accurate Information

We realized that there might be a concern in regard to the credibility of our information in light of all the misinformation that is going around the world these days. So, we partnered with Encyclopedia Britannica because they have been in business for over 250 years and are considered one of the most reliable and credible sources of information available. You can be confident that you're receiving award-winning content that is both factual and credible for kids ages 5 to 10 years old.

Donate To Kid's Nonprofit Organizations

We've made it a big part of our mission to give back in every way that we can. That's why we donate a portion of our proceeds to nonprofit organizations that place emphasis on helping under-privileged children with learning disabilities.

Support The United States Post Office

With the rise of internet and digital email, the use of good old fashioned snail mail has dwindled considerably. It's unfortunate because military veterans make up about 16% of USPS's total workforce. That's nearly 3 times their representation of the total workforce. Our personalized packet help these military vets stay gainfully employed!

Provide An Eco-Friendly Service

All of our packet and materials are made out of sustainable and recyclable materials because protecting the environment is another one of our core values. That way we're doing our part to make sure that the world is a better place for future generations.

We sincerely hope that you join us on all of our worthy missions.

With all our love and gratitude,

Daniel and Sigalit Somech
Content Partner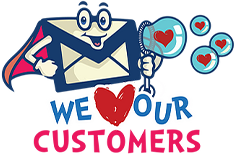 Accredited by

We always love hearing from our customers of how the children love receiving their packet in the mail.
Feel free to reach out anytime through our Captain Mail email at: help@captainmailkids.com and tag us on Instagram of you and your kids enjoying Captain Mail at: @CaptainMailKids. We would love to hear from you!